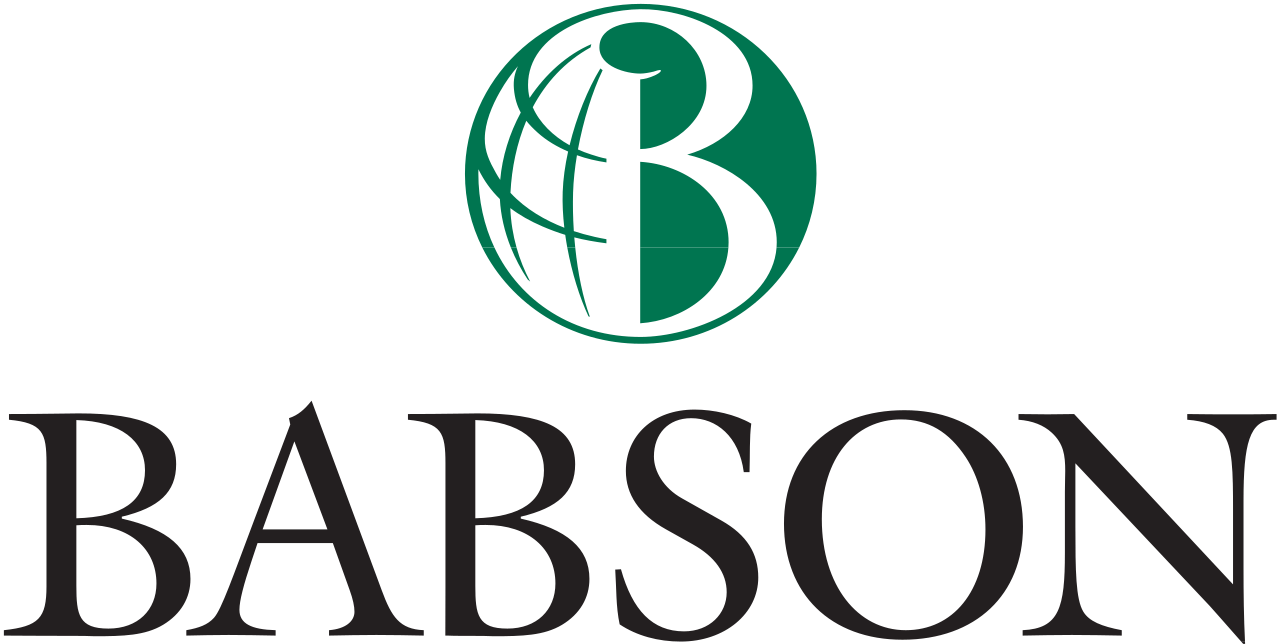 Babson College Entrepreneurial
Innovative Leader Program
Founded in 1919, Babson College is a highly-acclaimed private business school and a
recognized world-leader in Entrepreneurship
education.
Babson's mission is to educate entrepreneurial leaders who create great economic and social value—everywhere. For more than two decades, Babson's undergraduate and graduate programs have dominated the rankings of the best schools for Entrepreneurship education by U.S. News & World Report and Bloomberg BusinessWeek.
Babson's Entrepreneurial Thought and Action® methodology supplants and extends traditional ideas of entrepreneurship. It posits that entrepreneurs are made, not born; that they lead at all stages, levels, and types of organizations; and that entrepreneurs bring a range of skills to bear on opportunities, enabling them to envision and navigate change, accommodate ambiguity, and surmount complexity.
Entrepreneurship is the driving force for economic and social value creation around the world, providing a pathway for corporations, business owners, their families, employees, communities, and ultimately societies and countries. Entrepreneurship entails a manner of thinking and a set of behaviors – that are trainable – and this training is necessary to support a variety of entrepreneurial efforts. Entrepreneurial Thinking is the only way to make Innovation sustainable.
Babson's collaboration with The Dreamers Factory and ESEUNE Business School (Bilbao, Spain) will ideally involve a comprehensive portfolio of entrepreneurial innovation programs and initiatives that not only will create awareness but also will establish an innovation culture within the Spanish enterprises.
The world has experienced very significant changes in the last 35 years; as a consequence, the world is constantly living higher levels of Volatility, Uncertainty, Complex, Ambiguous & Hyper-Connection (VUCAH).
While a turbulent VUCAH environment offers unparalleled opportunities for many, it also results in disruption, if not profound existential challenges for others. For instance, a U.S. Fortune 500 firm lived for an average of 60 years in the 1960s. Today that number is 15 years. Globally, it is no different. 
Established firms are dying faster.Consequently, this new VUCAH world requires a different type of leader—the Entrepreneurial Innovative Leader (EIL)-. 
Great enterprises develop great leaders. Innovation and organic growth is the weapon of those leaders who navigate through VUCAH. Innovation changes the dynamics in the industry by changing the rules of the competitive game. The EILs create growth through scale and scope by energizing, engaging and enabling their teams and by fostering a culture of innovation through entrepreneurial thinking that routinely comes up with great ideas and turns them into flourishing businesses.
The Entrepreneurial Leader comes in all forms and formats –an individual entrepreneur, a corporate intrapreneur, a family business leader, a government or non-profit leader.
A successful program helps to remove participants' potential roadblocks for growth. Business leaders cannot predict the future in today's uncertain market environments. Babson's expertise in
Entrepreneurial Thought and Action
(ET&A®), and developing fosters leadership experiences that balance a relentless passion for action and experimentation with a comprehensive understanding of traditional business disciplines.
Within this context, a reference session in the field of innovation, to be successful, would have to cover beyond the conceptual part of «innovation culture». 
Leading successfully in the progressive and competitive environment of today requires a break with traditional leadership behaviors. In that sense we have developed our initial approach working on a Program that will allow group participants to think not only
more innovatively, but also to get to know each other better and master the necessary skills to be a contemporary and influential leader, with an entrepreneurial vision, capable of leading processes of change and innovation implementation.
Individuals/executive who are interested in learning the unique
entrepreneurial skills and expertise required to bring a new business initiative
to their market.
The businesses may be new entrepreneurial endeavors, or innovations within an existing organization or family business.
The program is ideal for projects that have been through an incubator and are ready for an accelerator.
Babson has accrued unique experience in the world by observing and/or advising entrepreneurs of all kind around the world, advising regions and corporations on the creation of effective entrepreneurship and innovative outcomes. Babson will use this knowhow in this Entrepreneurial Leadership & Innovation Program to further strengthen the intrapreneurial mindset and innovation skills of Leaders of all kind.
30 participants from different corporations (at least two participants per company) and business backgrounds, as well as business owners.
MODULE 1. 2 Days in Bilbao.
OPPORTUNITY IDENTIFICATION
INTER-MODULE. OPPORTUNITY IDENTIFICATION
MODULE 2. 3 Days in Bilbao. OPPORTUNITY DEVELOPMENT
INTER-MODULE. OPPORTUNITY DEVELOPMENT
MODULE 3. 1 Day Webinar. LEADERSHIP JOURNEY & FEEDBACK
JAY RAO
His executive teaching and consulting is in the areas of innovation, implementation of innovation initiatives within firms, corporate entrepreneurship and customer experience innovation. Dr. Rao also teaches 2 elective courses in the Babson MBA programs – (1) Leading Innovation: Creating Organic Growth and (2) #CX #UX #DX Innovation. 
His research has appeared in The Sloan Management Review, Journal of Innovative Management, The European Business Review, The European Financial Review, Cornell Hotel and Restaurant Administration Quarterly and others. He is the author of the book titled The Discipline and Culture of Innovation. He has written several business cases on a range of topics: Innovation Strategy, Innovation Culture, Leading Innovation, Customer Experience, Customer Service, and Strategy Execution.
Through Babson Executive Education he has taught for Novartis, Fresenius Medical Care, Pernod Ricard USA, Covidien, BAE Systems, U.S. Navy, SABIC, Citizens Bank, Merck, Masco Corp., Scottish Enterprise, Innovation Norway, North Atlantic Capital, EMC, GlaxoSmithKline, and others. 
He has also taught executives and/or consulted for Reed Elsevier, PWC (Spain), Bayer Material Science (Germany), Iberdrola (Spain), Assa Abloy Americas, Massachusetts General Hospital (Boston), PRIME Business School (Colombia), Banco Occidente (Colombia), Chilectra (Chile), Agricola Garces (Chile), Groupo Security (Chile), Entel (Chile), Coagra (Chile), Inter-American Development Bank, Benchmark Assisted Living (Boston), EMDSerono, FORUM (Colombia), FitLinxx, Penteo (Spain), BFA Conseil (France), Novartis, Lojack, Fidelity Investments, Merrill Lynch, Boston Scientific Corporation and others. 
He was a member of the Innovation Advisory Board at Ocean Spray (USA) from 2010-2015. He currently sits on the Innovation Advisory Board of Bancolombia (Colombia), and on the Flavor Advisory board of Firmenich (Switzerland). He also has a family-business background and sits on the board of The HJKP Educational Trust (India).
INNOVATION: THE WEAPON OF THE ENTREPRENEURIAL LEADER
Role of the Entrepreneurial Leaders – Changing the Competitive Game & Navigating VUCAH
VUCAH: Volatility, Uncertainty, Complexity, Ambiguity, Hyper-Connectedness
Navigating into the Future – Risk, Uncertainty & Ambiguity
INNOVATION SCIENCE
The Discipline of Innovation – Body of Knowledge
How the World Progresses – Incremental + Radical
Mastering Continuous Improvement & Continuous Experimentation
INNOVATION DYNAMICS & DISRUPTION
The Nature of the Innovation Game: Gorillas vs Chimps vs Monkeys
The Nature of Disruption – An Universal Phenomenon
Market Shapes – Where Innovators Enter
INNOVATION STRATEGIES: BIG vs MEDIUM vs SMALL
Gorillas vs. Chimps vs. Monkeys
Finding Adjacencies for Growth – Scale + Scope
The Bowling Alley Strategy – Diversify or Focus?
INNOVATION OPPORTUNITIES: CHANGING THE COMPETITIVE GAME
Changing the Competitive Game – Between and Within Generations
Opportunities Along the Innovation Life Cycle
Innovation Types – Product, Process, Business Model, Open, Platform,…
INNOVATION PROJECTS & PROCESSES
Projects: Analytical vs. Emergent: Agile SCRUM / LeanStartup vs. Waterfall
Horizon 1, 2, 3 Innovation Project Management
Processes: Identify, Shape & Capture Opportunities
INNOVATION SANDBOX: STARTING THE INNOVATION JOURNEY
DNA: Question, Listen/Observe, Associate, Network, Experiment, Design Thinking
Innovation Sandbox – Structure, Governance, Funding, Leadership, Projects
Cultivating innovation culture via careful management of innovation projects
INNOVATION CULTURE: THE ONLY SUSTAINABLE ADVANTAGE
Culture – Resources, Processes, Success, Values, Behaviors & Climate
Problem Solving, Psychological Safe Spaces, Old + New Informal Networks,
Collaboration
Leading Change – Making Mistakes, Disagree & Commit, Decision Making Speed